Vitamin C Freckle Dark Spot Removal Cream
Repairs Skin Discoloration Conditions
Types of Hyperpigmentation Like:
Freckles
Acne Scars
Melasma
Spots Post Pregnancy
Spots from Hormone Therapy
Effective on Most Common Areas
Remove Dark Spots Anywhere Including:
Forehead
Upper Lip
Cheeks
Chin & Jaw Line
Neck
Hands & Arms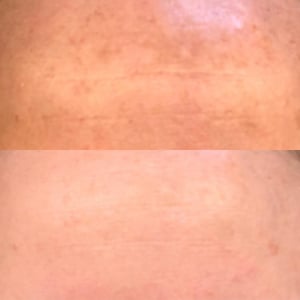 Reverses the Signs of Aging
Reduce Spots Caused by Father Time:
Age Spots
Liver Spots
Sun Spots
Lentigines
Features:
Fades stubborn dark spots, freckles, hyperpigmentation and melasma while refining and hydrating the surface of skin.
Natural Whitening & Brightening – Moisturize Skin, anti-sunburn, anti-aging – making skin smooth and white, balance water and oil, an effective whitening cream for your face, neck, and body.
Natural Ingredients – Formulated with a potent blend of skin-evening antioxidants including Vitamin C, Arbutin, Nicotinamide, it breaks down dark spots, skin tags and moles by reducing and suppressing melanin production.
Painless & Traceless – No bleeding, burning or any side effects. No scars or irritation formed by letting moles and spots fall off naturally.
Dermatologically Safe – Hypoallergenic, perfect for all skin types, even for sensitive skin.
Effortlessly Professional – Easy but effective, an affordable painless, non- treatment that you can apply to your skincare routine everyday.