Caffeine Hair Revival & Darkening Serum
Take it from our happy customers who achieve a natural dark and healthy hair re-growth with Caffeine Hair Darkening Serum!
Sarah Collins, 39, Elgin, Illinois
"I'm obsessed! I've had hair loss for years because of stress and I've tried soooo many different things. This Caffeine Hair Serum has honestly been the best thing ever for me. I don't have to use root cover up anymore because my scalp looks less empty. Also love how this improve the color and overall health of my hair! I love it so much!" – Sarah Collins, 39, Elgin, Illinois"
Henry Phillips, 62, Gary, Indiana
"I'm 62 but look like I'm in my 40's using this! I do have a full head of hair and this keeps the color in it! Plus I like the hair conditioning of this Caffeine Darkening Serum. It leaves my hair soft and smooth. And I feel it does a better job than other that I've tried. Gentle on your hair and most importantly, it looks NATURAL!"
Balancing the level of DHT
​High levels of androgens in the body produce a hormone called Dihydrotestosterone (DHT). DHT binds to certain proteins in the body, which in turn reduces the size of your hair follicles. This may result in thinning of the hair and may even delay the growth of new hair strands.
Why does our hair turn grey?
Our hair turns gray or white from a loss of melanin, a pigment-producing component that produces melanocyte cells. These make up your natural hair and skin color. The less melanin you have, the lighter your hair color. Vitamin B-12 deficiency is one of the most common causes of prematurely graying hair.
What happens when hair turns grey?
As we get older, the pigment cells in our hair follicles gradually die. When there are fewer pigment cells in a hair follicle, that strand of hair will no longer contain as much melanin and will become a more transparent color — like gray, silver, or white — as it grows.
What makes the Caffeine Hair Darkening Serum the Ultimate hair reversal serum?
Caffeine Hair Darkening Serum will help give you a natural way of restoring the youthfulness of your hair by working from deep within your roots. With powerful active ingredients, it can help prevent ageing and also strengthen the hair improving the antioxidant defense system of greying hair. It is nourishing, protects, and repairs the scalp!
Consists of Powerful and safe ingredients to effectively reverse grey hair:
Greyverse – A biomimetic peptide that stimulates melanin synthesis, favoring melanin transfer from melanocytes to keratinocytes. It improves catalase activity and reduces excess hydrogen peroxide (H2O2), resulting in hair re-pigmentation and the reversal of gray hair.
In a clinical study by measuring the effect of Greyverse on melanin production in a culture of human melanocytes. It was found that with only 0.5% of Greyverse in the formulation, and after 72 hours of treatment, the synthesis of melanin was significantly increased by 19%, improving the depigmentation of the grey hair.
Caffeine: Known to aid in the production of melanin in your hair, caffeine allows you to retain your hair's natural color. It is especially beneficial for people who suffer from premature greying of the hair. It also provides enough nutrients for the hair, to deeply nourishes the hair and scalp.
That is why Caffeine Hair Darkening Serum is proven to provides enough nutrients for the hair, and by deeply nourishing the hair and scalp. It also repairs damaged hair, and effectively cleans the hair and remove dead cells on scalp.  In just 4 weeks of treatment during clinical trials, people saw outstanding visibly significant decrease in grey hair density by 30%-92%.
What makes Caffeine Hair Darkening Serum your great choice?
Keeps hair stronger and healthier
Gradually reduces grey hair
Give you a soft and dark hair
Nourishes, protects, and repairs the scalp.
Help to strengthen the hair fibers from inside to out.
Reactivate hair pigment cell melanocytes
Will look younger once you got your hair darker
More of our happy customers!
"I have grey, damaged hair. I only used it in 2 weeks and already see and feel the difference in my hair. This naturally darken my hair! Roots are showing much less gray and overall color has improved. Also, the scent is not too strong or too weak, it's perfect!" – Melissa Foster, 47, Guyman, Oklahoma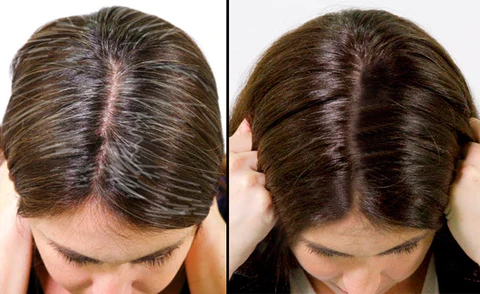 "Grey hairs are showing up on me at a young age. I think it's because of excessive usage of chemical shampoos and stress. After switching to this, greying hair, hair fall and dandruff has stopped! My hair felt nice soft and nourished. I noticed the reduction in gray hair after 4 weeks! Will continue using this!" – Lianne Roberts, 31, Lakeland, Florida
Application
Applied once a day, every day directly to the scalp. Since you're focusing application on the scalp, it can be used when hair is dry or when hair is damp and towel-dried after a shower. We recommend before bed to leave in overnight.